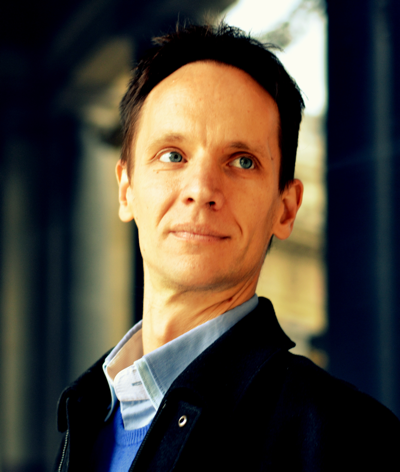 Born near Paris (France), Patrick Loiseleur begins music at the age of 5 with viola then piano. He starts writing music as an autodidact in his teens. He also studies mathematics at Paris's Ecole Normale Supérieure and receives a PhD in Computer Science from Paris XI-Orsay University. He is married and father of two when he starts studying music seriously again, at ENM-Alfred Cortot with Michel Merlet, where he gets a degree in Composition and another in Orchestration, then at Conservatoire Royal de Liège (Belgium) where he gets a Licence of Viola with Pierre-Henri Xuereb in 2011 and a Master of Composition in 2013 with Michel Fourgon. He is currently sharing is time between a part-time job as research engineer and writing music.
In 2013 he wins an award for La Victoire de Guernica (a piece for soprano colorature and chamber orchestra) at the Rencontres Internationales de Composition de Cergy-Pontoise. His music is played in Europa (Germany, Belgium, Italy), United States, Canada, Korea, Japan. Sometimes it is even played in France...  He has the big luck to work with great artists like Vincent Royer (viola), L'Oiseleur des Longchamps (baritone), Sevan Manoukian (soprano), Pascal Devouon and Rikako Murata (pianos), Jean-Pierre Peuvion (clarinet), Fanny Vicens (accordéon), Axia Marinescu (piano), Philippe Hattat-Colin (piano), Alain Pire (trombone).

He is also the main contributor to the  Journal de Papageno, a prominent blog (in French language) on classical and contemporary music.
---

Né en région parisienne en 1975, Patrick Loiseleur commence la musique à l'âge de cinq ans avec l'étude de l'alto, puis du piano. Il commence également à écrire de la musique en autodidacte dès l'adolescence. Après un baccalauréat scientifique, il cède à son autre grande passion en étudiant les mathématiques. Il intègre l'Ecole Normale Supérieure de Paris et obtient un doctorat d'informatique à l'Université Paris-Sud XI – Orsay. Il est déjà marié et père de deux enfants lorsqu'il reprend les études musicales, à l'ENM Alfred Cortot (avec Michel Merlet) où il obtient en 2009 un Diplôme de Composition et d'Orchestration, puis au Conservatoire Royal de Liège ou il décroche en 2011 une Licence d'Alto dans la classe de Pierre-Henri Xuereb et en 2013 un Master de Composition dans la classe de Michel Fourgon. Il partage actuellement son temps entre un emploi d'ingénieur de recherche à temps partiel et la composition musicale.
En 2013, sa Victoire de Guernica pour soprano colorature et ensemble instrumental est primée aux Rencontres internationales de composition de Cergy-Pontoise. En 2019, le baryton L'Oiseleur des Longchamps et la pianiste Mary Olivon publient chez Triton un disque de ses mélodies intitulé Aporie. Il collabore avec des artistes tels que Vincent Royer (alto), Sevan Manoukian (soprano), Pascal Devoyon et Rikako Murata (piano), Jean-Pierre Peuvion (clarinette), Fanny Vicens (accordéon), Axia Marinescu (piano), Philippe Hattat (piano), Alain Pire (trombone).
Son style inclassable est caractérisé par les mélanges et les ruptures : on peut y trouver aussi bien des éléments de musique tonale que des éléments sériels ou bruitistes ou encore archaïsants, en alternance ou même en superposition. Il reste néanmoins fortement influencé par la musique française de Ravel à Messiaen et Grisey. Loin de tout académisme, sa différence tient aussi bien à son parcours atypique qu'à une réelle indépendance. Ne cherchant pas à gagner des concours ou des commandes, mais avant tout à exprimer des émotions contrastées de façon sincère, sa musique toujours respectueuse des interprètes et des voix se caractérise par une grande liberté. Pour décrire son travail, il a forgé le concept de musique « hypertonale » visant à dépasser l'opposition binaire entre tonalité et atonalité, tradition et avant-gardisme.
---
Scores by Patrick Loiseleur