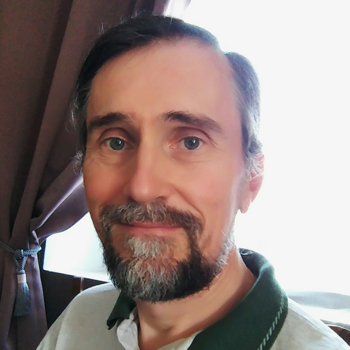 Jérôme Duchemin is a French violist and composer born in 1968. He studied violin, viola and music theory in CRD Saint Germain en Laye and CNR Versailles, with Paul Hadjaje, Jean Roudon, Serge Collot and Yanos Komivès, to obtain his State Diploma of viola in 2003.

He's passionate about chamber music. He played with the trio "der dichter" (clarinet, viola and piano) and was a member of the string quintet "Khroma" which performed all over the world. In 1999, the quintet recorded the disk "petits jeux" (small games) of Armenian music. Above all else, Jérôme favours the string quartet, and throve with "Oknos quartet" from 2000 to 2009. In 2020, his latest delight was to re-unite this quartet.
He also played with the "archets européens" (European bows), "Bernard Calmel" ensemble, "Orchestre de chambre lyrique de Paris", "Serenade orchestra", "Orchestre Philharmonique départemental de l'Oise", symphonic orchestra "Bell'Arte". In 2015 he founded the "Ensemble Sylphiades". Jérôme has made all the musical transcriptions for this ensemble, whether in classical, pop or world music.
Jérôme also likes to melt music with other artistic forms, such as theatre. He is a musician in the company "Companie de la Fortune – théâtre en soi" and created - with stage director Hélène Laurca - a tango version of Ionesco's "Leçon" (lesson) which they performed at the 2014 Avignon theatre festival.
Passionate about pedagogy, Jérôme has spent 31 years teaching music. Since 2008 he is professor at Compiegne's conservatory where he teached viola, violin, music theory and leading the junior orchestra.

For the last ten years, Jérôme has been composing for viola and chamber music ensembles, pieces for professional musicians or students. His knowledge comes from his harmony and composition classes with Jean Aubain (Rome Composition Prize in 1956), as well as orchestration lessons with Yanos Komivès. His music is inspired by vocal polyphony and incorporates jazz harmonies. 
---

Jérôme Duchemin est un altiste et compositeur français né en 1968. Il apprend le violon puis l'alto au CRD de St Germain en Laye puis au CNR de Versailles, il étudie avec Paul Hadjaje, Jean Roudon, Serge Collot et Yanos Komivèet, et obtient un Diplôme d'Etat d'alto en 2003.
Il se passionne pour la musique de chambre, avec le trio « Der dichter » (clarinette, alto et piano), le quintette à cordes « Khroma » (qui publie en 1999 un disque de musique arménienne). Le quatuor à cordes restera sa formation favorite, notamment avec le quatuor Okno de 2000 à 2009.
Il a fait partie des « archets européens » de 1986- 1994, de l'ensemble « Bernard Calmel » de 1991-1993, de « l'orchestre de chambre Lyrique de Paris » de 1994-1997, de « Sérénade Orchestra » de 1997-2002, de « l'Orchestre Philharmonique départemental de l'Oise » de 2003-2012 et depuis 2008 de l'orchestre symphonique « Bell'Arte ». Depuis 2015 il est un membre fondateur de l'ensemble « Sylphiades », pour lequel il réalise de nombreux arrangements.
Il aime aussi marier la musique et  le théâtre, avec la troupe « La compagnie de la fortune en soi », et crée avec Hélène Laurca une adaptation de La Leçon de Ionesco en version tango, donnée au festival d'Avignon en 2014.
Passionné par la pédagogie, Jérôme Duchemin est actuellement professeur titulaire au Conservatoire de Compiègne en alto, violon, formation musicale et orchestre junior.
Il compose depuis une dizaine d"années des pièces pour les étudiants et les musiciens professionnels. Ayant appris l'harmonie auprès de Jean Aubain (Prix de Rome en 1956), et l'orchestration avec Yanos Komivès. Sa musique est inspirée notamment par la polyphonie vocale et le jazz.
---
Scores from Jerôme Duchemin